Hundreds of parts, millions of pieces… 
Erhan Kaucuk, with production of hundreds of different parts and production quantities of almost a billion per year, is supplying rubber parts to several sectors as well as end-users.
Gaskets, seals, heat and chemical resistant caps, diaphragm rubbers, silicone and Viton® parts, rubber blocks, silicone kitchenware are among Erhan Kaucuk's production portfolio and 95% of its production is covered by its in-house mixtures.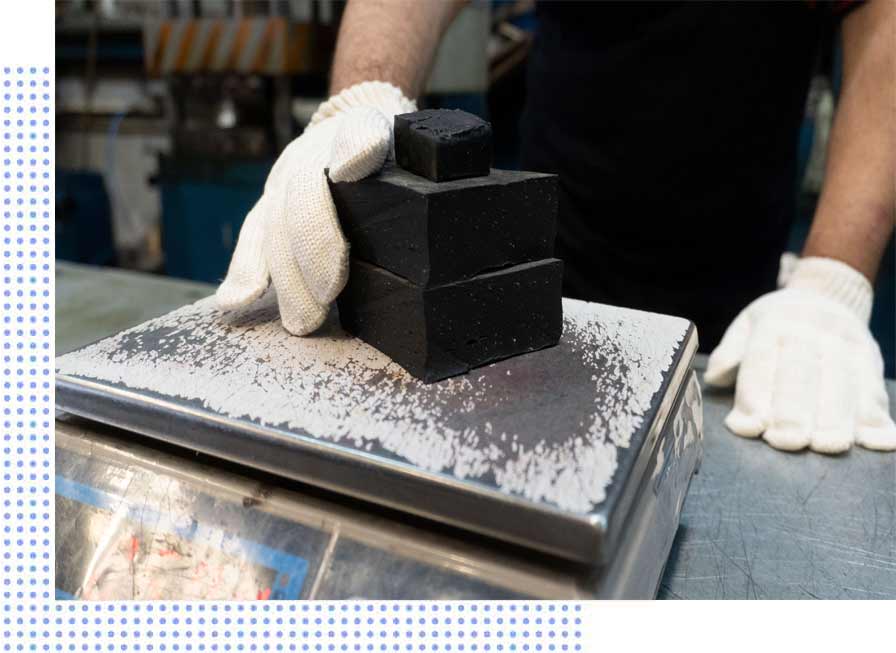 Design and Manufacturing
of Special Rubber Products
Erhan Kauçuk produces a wide variety of parts for all types of industrial purposes. While we primarily manufacture custom parts for industrial use, we also provide end-use products out of silicone like baking molds, utensils, and spare parts for kitchen appliances.
From beginning to the end: Erhan Kaucuk is among the top rubber manufacture companies when it comes high-quality seals, gaskets and molded parts.
Starting from the sampling process, continuing with the preparation of specifications and EMPB reports, planning of the mass production phase and testing methods, it is ensured that the rubber article is manufactured with 100% efficiency.
Main purpose is to meet the requirements by creating the correct mixture and applying the optimal production technique to ensure high quality with low costs.
Durability is the thing when it comes to gaskets. Erhan Kaucuk guarantees the gaskets' long life and durability by the power of five decades of experience and know-how.
With the capability of producing gaskets from 5 mm. to 750 mm., Erhan Kaucuk is supplying safe and durable rubber gaskets to the following sectors:
Water meters
Control technologies
Hydraulic and pneumatic
Machinery
Aerosol
Erhan Kaucuk manufactures rubber blocks that are facilitated in sectors such as transportation, furniture, machinery etc.
Since the conditions always vary, mixture and production technique plays a very important role for durability.
Erhan Kaucuk, with its experience and know-how, can produce various rubber blocks that fits to certain conditions and requirements.
Silicone Parts & KITCHENWARE
Silicone is a miraculous material that comes in our lives in various forms and shapes.
Its durability against heat and ozone, mechanical properties, conformity to health makes it a perfect material also in industrial use.
Erhan Kaucuk produces silicone caps, gaskets, seals and many more and can produce parts according to FDA and LFGB regulations.
With its fully PLC-controlled and high-tech gasket cutting machines, Erhan Kaucuk can produce square section gaskets with precision and high volume.
Aerosol-valve gaskets, water-meter gaskets and similar products can be produced precisely, using mixtures and formulations with NBR, EPDM, Silicone etc.
Cut-thickness can be as low as 0,5 mm. whereas the gasket diameter can be as high as 200 mm.
Rubber-Metal parts are used in so many areas from aerospace to elevators.
They play the most important role in increasing the durability of metal parts, silencing noise and improve wear&tear effects of moving metal parts in mechanical tools.
Bonding rubber to metal is a process that requires experience and know-how. Erhan Kaucuk has years of experience in bonding various rubber types to various metals.